Hair transplantation techniques have seen a great many advances in the past 15 years..
Hair transplantation has evolved from punchgrafts to strip-surgery and in the past 15 years the ever more popular Follicular Unit Extraction (FUE). The major dis-advantage with strip-surgery has been and is the linear scar in the donor-area that becomes visible if the hair is not kept long enough.
The FUE technique has gain more popularity as it does not leave a linear scar in the donor-area. In many cases FUE does not leave a visible scar in the donor-area while in some cases the  donor-area is hardly visible. FUE hair transplant is a time consuming procedure and involves a higher degree of participation of the surgeon which makes it more expensive but also means a much higher rate of patient satisfaction.
The Follicular Unit Extraction Technique
The FUE technique is different than the FUT technique in only the method of extraction. The method of implantation used in FUE is the same as FUT.
Scalp- and body-hair can be used as a donor-hair in FUE hair transplant. However. Most commonly the sides and back of the head is used as it has the best growth prospects.
This extraction is done using special micro-punches to loosen the grafts which are then extracted using forceps. Each grafts may contain 1-4 hairs while in some cases even more hairs can be found in one grafts. The average number of hairs in each grafts varies greatly according to ethnicity. Caucasians tend to have finer hair but more hairs per grafts while Asians have thicker hair with fewer hairs per graft. In most cases patients would have an average of 1.7-2.3 hairs in one grafts.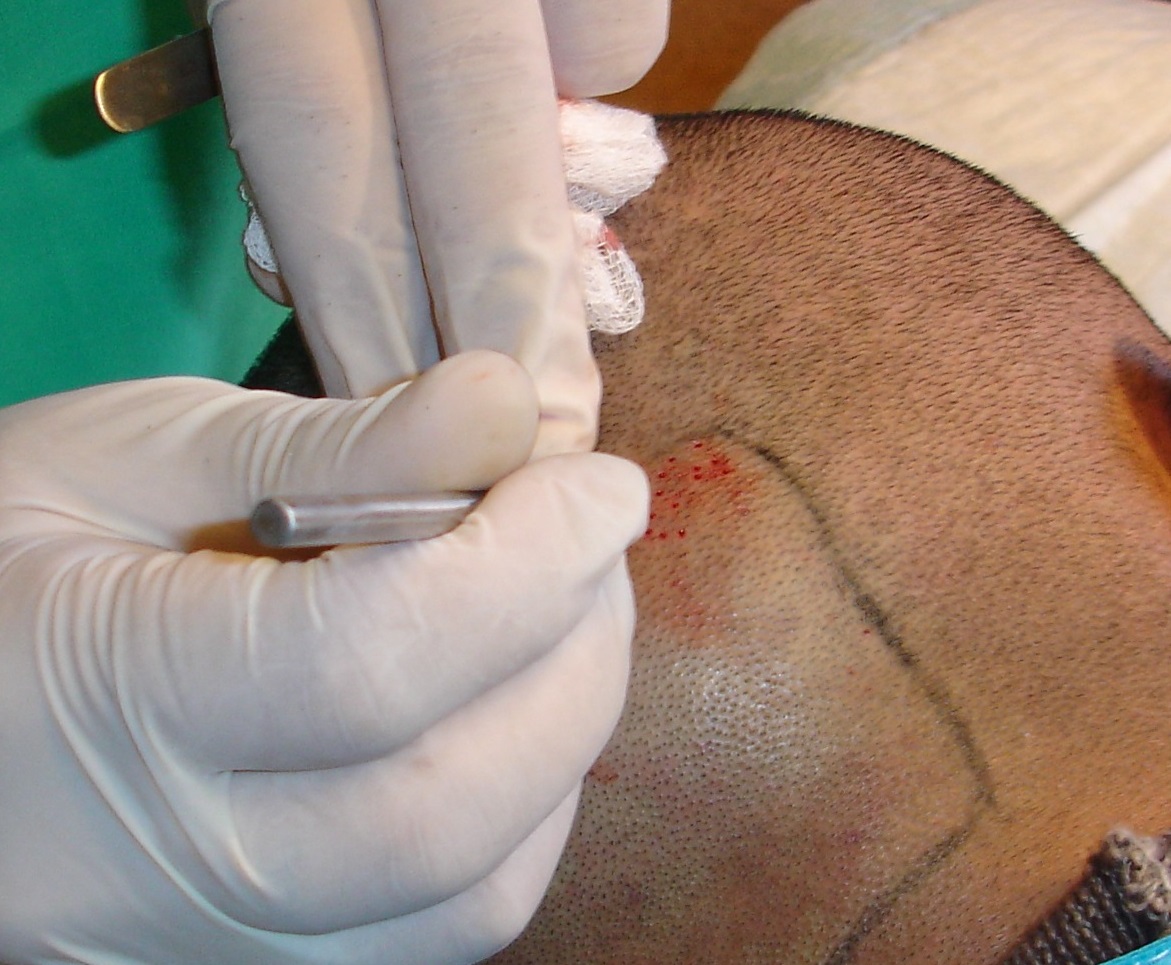 Advantages of Follicular Unit Extraction Technique
FUE has many advantages over other hair transplant techniques if done by a skilled surgeon that uses a combination of medical science and art to obtain a natural result. In the hands of an experienced surgeon and a highly skilled team of hair transplant technicians a FUE patient can look forward to
– hardly visible scarring in the donor-area
Hardly visible scarring in the donor-area.
Grafts/hairs placed in natural direction where the surgeon takes into account the natural direction of hair in each little area that he treating.
A recipient-area that shows no sign of a surgery even if the patient opts to go for a trimmed or bald head at a later stage.
A comfortable surgery and smooth post-surgery experience.
No long term complications or issues.
My Hair Clinic has 12 years of experience in this field and all doctors and technicians working at My Hair Clinic has been individually trained or vetted by the founding surgeon, Dr Hussain.