DEEP-CLEANSING FACIAL TREATMENT FOR REVEAL RADIANT SKIN
HydraFacial uses patented technology to cleanse, extract, and hydrate the skin while infusing highly-effective serums tailored to your specific skin needs.
This unique process helps improve the appearance of several skin concerns, including fine lines and wrinkles, skin firmness, texture, and pore congestion. This rejuvenating treatment is gentle, non-invasive, and effective immediately. Most importantly, it is suitable for all skin types.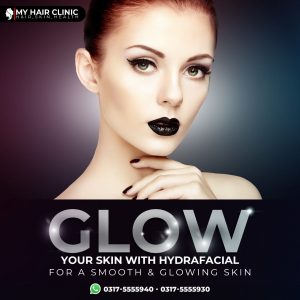 We offer HydraFacial with different masks and LED therapy so that you look younger with a vibrant glow and shine to your skin.
HydraFacial non-invasive antiaging, skincare for healthy, good looking skin.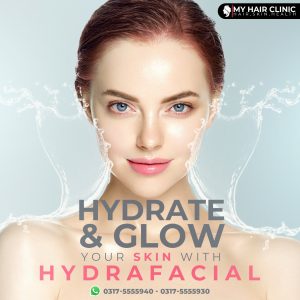 Benefits of HydraFacial
Removal of dead cells

Improve your skin texture

Removal of blackheads and white heads

Smooth and soft skin

Leaves your skin with a vibrant glow and shine
Who can get HydraFacial?
HydraFacial is a very mild therapy and can be used for all skin types. If your skin is sensitive, HydraFacial may just be the right choice for you, if you desire a glowing skin with a younger look.
Steps in HydraFacial
1:  Steam
2: Cream scrub
3: Dermabrasion
4: Scrubber
5: Vitamin C spray
6: Cold hammer
7: Facial ultrasound
8: Eye ultrasound
9: RF
10: Mask
11: LED light
Different types of HydraFacial
Plain HydraFacial: Clean and hydrate your skin

HydraFacial with clay masks: Smoothens and glows your skin. A very popular treatment combination

HydraFacial with gold mask: Look younger and more attractive with our gold mask enhancement

HydraFacial with whitening serum: Evens out your skin tone and lightens your skin

HydraFacial with LED therapy: LED adjusted to your specific needs such as inflamed skin, acne prone or hyperpigmentation.
Side effects
HydraFacial is a very safe procedure and side effects are very unlikely
Repeat Treatment
After 3-4 weeks