The second most important feature of a successful result is a natural result of the transplant. Of course, the most important is, that the surgery is safe and according to the highest medical standards.
Many factors are involved in the final cosmetic results from a hair transplant. Some of these factors are partially in the control of the patient and/or the surgeon. However, some factors are really outside our control and we just have to work with whatever is available.
Hair Transplant Results Of Some Of Our Patients
Patients often ask us to show results for previous patients that have comparable hair loss. However, I'm not in favour of that, simply because hardly two patients are the same. The below examples of results of our patients are just that: Examples.
Even if you feel your hair loss is very similar to the hair loss for some of our previous patients, you should not expect similar results. Your results will depend on some of the factors above and your situation may differ greatly from any of our previous patients.
Shamoon Abbasi's

Hair Transplant Results With Dr Mazhar Hussain at My Hair Clinic
A renowned Pakistani actor and a political worker. After a previously failed hair transplant he finally made up his mind about having a hair transplant at my clinic in Islamabad.
Check out our videos with Shamoon Abbasi before and after the surgery and about his offer to work with Pryankra Chopra in India.
Mikael Melbye
A renowned Danish artist, actor and portrait painter. He has been part of several great performances in France, Italy, UK, US and Denmark. He came for a hair transplant at my clinic in Islamabad.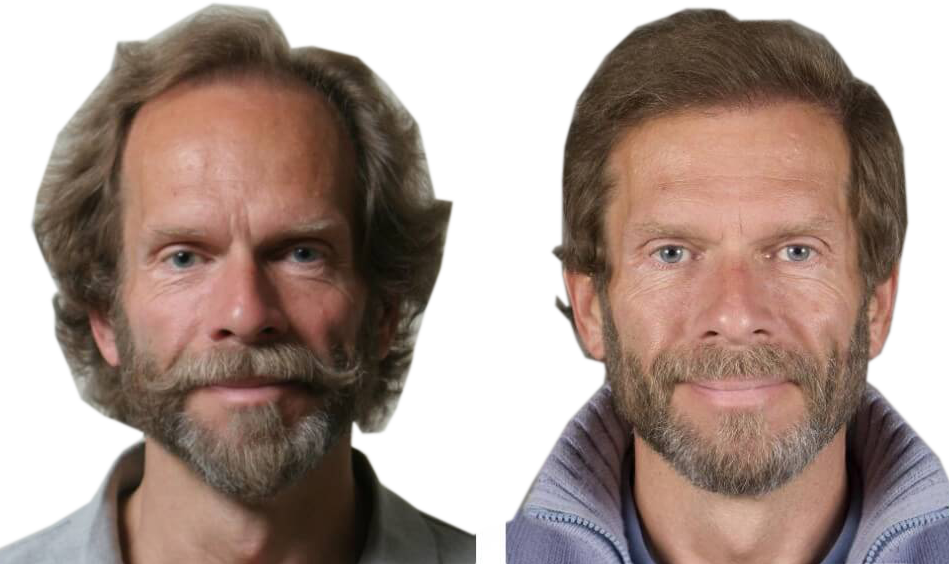 His donor-area was good and recipient-area was relatively limited. This is an optimal situation for a hair transplant in terms of density. However, the most important factor to consider is the naturalness of the transplant. Even on close inspection you cannot really see that he has had a hair transplant. Actually, his hair stylist at Copenhagen Spa didn't even realise that Mikael Melbye had had a hair transplant.
When Mikael informed him, he tried to look for signs in the donor-area and the recipient-area, but failed to find any clues of a hair transplant. For the same reason he came to see me at my hair clinic in Denmark.
Jonathan Long
A Celebrity Hair Stylist In London, Had A Surgery With Dr Mazhar Hussain In London
A celebrity hair stylist in the Chelsea/Kensington area in London. He recently launched his own brand in fragrances. Being a hair stylist himself, he had seen many patients with hair transplant that were all too visible and un-natural. After a consultation with me in UK, he decided to have a hair transplant at my London clinic.
After his surgery with myself, his clients couldn't believe that he actually has had a transplant. He later came back for a hair transplant to the crown area. Needless to say that his clients are coming to have their surgery with me at the UK clinic.
Chaudhry Tariq Farooq
Senior Minister Of Azad Jammu & Kashmir Very Happy About His Hair Transplant Results At My Hair Clinic In Islamabad

Sam Akilles
Very Happy With His Hair Transplant Results At My Hair Clinic In Oslo, Norway
Owner of a chain of hair salons in Norway. He first went to Turkey for a hair transplant in Istanbul. A decision he regretted very soon. With limited growth and un-natural results, he was very upset about his surgery. He then had a fue hair transplant with me in Oslo. This was a big project because the first surgery was so messed up. However, this was rectified and Sam is very happy about his results. He has referred friends and clients to my clinic in Oslo.
Khurram Khan's

Hair Transplant Transformation Is Awesome
Owner of number of restaurants and fast food outlets in Islamabad and Lahore, including the very popular Tuscany. Khurram had one major reservation: He did not want to go for the trimmed look. This somewhat places a restriction on our surgery. Without trimming the surgery is done in multiple smaller session. However, after a number of smaller surgeries at my clinic in Islamabad, Khurram was able to leave behind his hair loss fibres that he used to cover up his thinning areas.
Khalid Khan
From USA. He is working in the IT field. His wife is a doctor in the US and hence, he had high standards for his surgery. Fortunately, his donor area was relatively good and in few surgeries we managed to totally change his looks and give him a younger and more handsome look. Needless to say that his is happy about his results.
Gordon Ahlwardt,

Hamburg, Germany.
He Travelled to Islamabad To Get Natural Hair Transplant Results
From Hamburg in Germany. He opted for a live consultation with me at the clinic in Copenhagen. He then flew to Pakistan for a hair transplant at my clinic in Islamabad. Check out what he has to say about his results in the video below.
Ahmed Kamal
Super Happy With His Hair Transplant Result From My Hair Clinic, Islamabad, Pakistan
A business professional in the telecom sector of Pakistan. Although, he got quotations well below the cost of surgery at my clinic, he opted for a surgery with us due to the safety, quality and natural results.
Factors In Hair Transplantation That We Can Not Control
There are plenty of factors that the hair transplant surgeon or the patient has no control over. Some of these are:
Diameter Of The Transplanted Donor-Hair
The greater the diameter of the individual hair shaft (the thicker the donor-hair) the greater the coverage.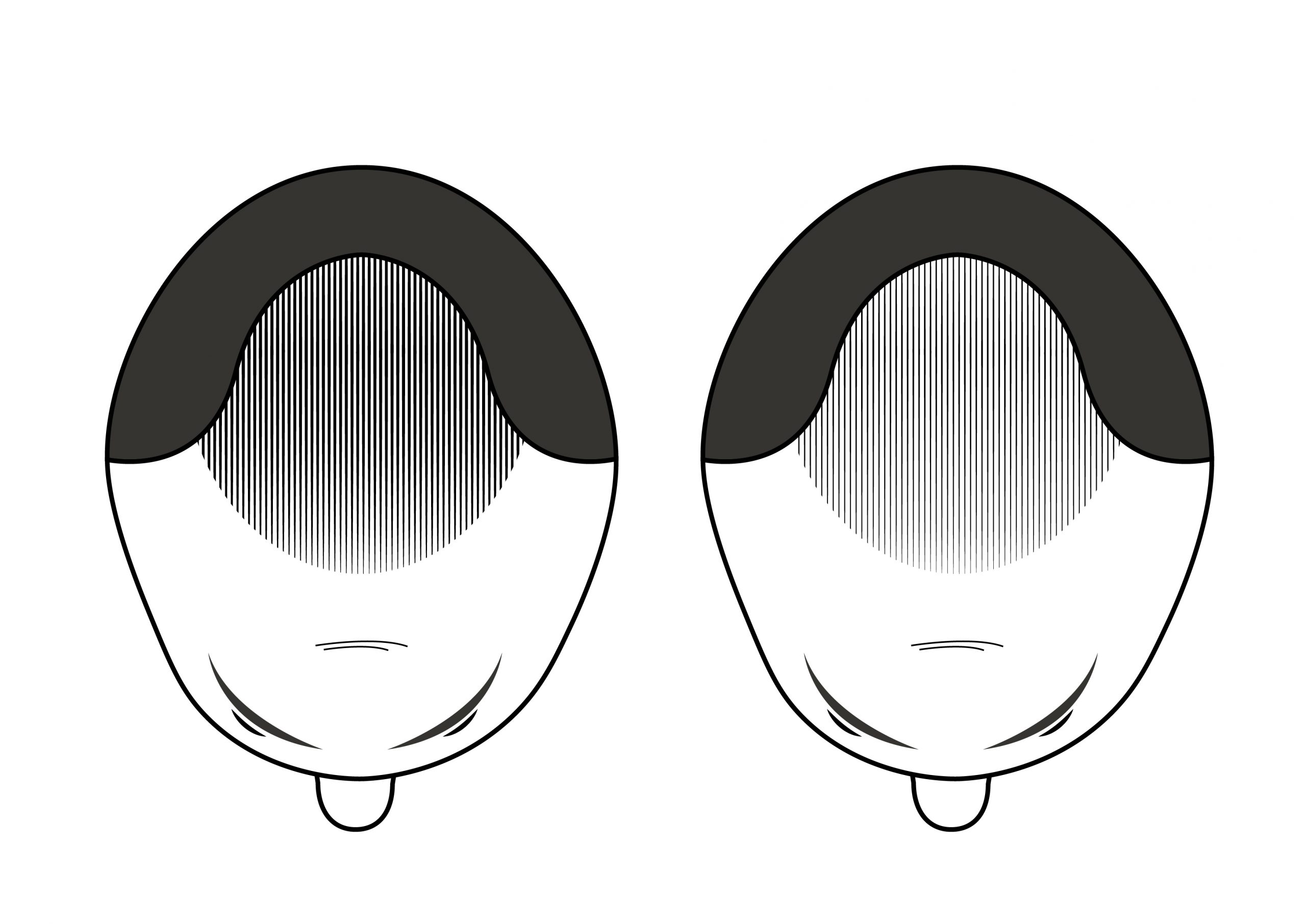 Although the number of hairs in the illustration above are the same, the thicker hairs give more coverage. Often, the difference in hair thickness is part of the reason why people that have had the same number of grafts during a hair transplant may get completely different results.
This may lead to disappointment and regrets because the patient with poorer hair transplant results may feel that his/her transplant was not performed properly. While this could be the case, it may also just be due to the difference in hair thickness (along with other factors).
One interesting aspect of hair loss that most people are not aware of, is that hair loss does not mean that some follicles just stop producing hair from one day to the other. It's a gradual process, where the thickness of the hair is slowly and gradually reduced before the follicles stop producing more hair. This is why hair in the thinning areas looks so thin and light.
Contrast Of The Transplanted Hair And The Scalp
The contrast between the hair and the skin is very important for the visual results. The greater the contrast between the colour of the hair and the scalp the more skin will be visible and give the impression of less density and coverage. For instance, black hair on a very fair person, would make the skin reflect more light and the hair will appear less dense/full.
Availability Of Donor-Hair For Hair Transplantation
Unfortunately, there is no fairness when it comes to hair loss: The greater the hair loss, the greater the need for donor-hair but it also means that you've less donor-area left. So, the more donor-hair you need the less you have. Similarly, if your hair loss is limited then your donor-area is much greater while your need for donor-hair is less.
Keep in mind, that hair loss is a dynamic process. A person that is 22 years old and seemingly has a very good donor-area is likely to have further hair loss over the coming years. This needs to be taken into account and only hairs that are likely to be in the safe zone/permanent area should be used for hair transplantation.
If hair are used from future hair loss prone areas, then the transplanted hair will also fall with time. Hence, the non-permanent transplanted grafts will only grow for a while after the transplant and then be gone forever.
In conclusion, it's clear that hair transplant results are not just about what you want, but also what is realistic and possible with the hair you have.
Factors That We Can Partially Control During A Hair Transplant
While there are factors that are not in our control, the hair transplant surgeon can still utilise his/her hair transplant skills and his/her hair transplant experience to give the patient the best possible hair transplant results.
Design Of The Recipient-Area In Hair Transplantation
Using donor-hair strategically can give an impression of more density with the same number of grafts. If the grafts are distributed evenly or randomly, it will give an impression of less density. Some of the factors that the surgeon and patient need to optimise include the distribution of grafts according to the number of hairs they contain.
Also the angle of insertion is important. If the grafts are placed in a high angle it'll give more of a see-through effect. A lower angle will not only make the hair transplant look more dense, it can actually also make it look more natural. One of the most consistent problems, I see with hair transplant results from other clinics, are the lack of naturalness.
In a competition between hair transplant clinic, many clinics try to compete on the number of grafts transplanted in the shortest possible time. A patient may also be lured to think that a 4000-grafts transplant is a better option than 2500 grafts. However, 4000 grafts placed un-naturally may result in an un-natural hair transplant that is not easy to rectify. Also, packing the grafts too close can reduce the growth as there is not sufficient healthy tissue to support the grafts.
In more serious cases, too high density may cause necrosis and infection. It's therefore important that the design is done according to the highest medical standards to avoid disappointment and to get a natural hair transplant result.
This requires experience, medical knowledge and an artistic approach to hair transplantation.
The design of your hair transplant is the most critical
Recipient-Area Size In Hair Transplantation
The greater the recipient-area the less the density and coverage. This is just one reason, why the clinic and the surgeon should be very careful when planning the transplant. The right compromise between area and density is important and in this regard it's important that the patient's desires and needs are considered. However, the patient should also understand the constrains and limitations of modern hair transplants. If the patient's expectations are not aligned with the realistic outcome of the hair transplant surgery, then it may lead to un-necessary disappointment.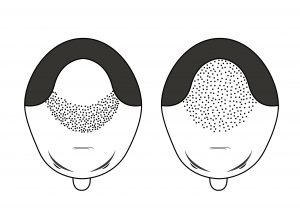 Recipient-Area Selection Affects The Perceived Fullness In Hair Transplantation
Having the same density in front and in the crown will not give the same impression of density or fullness. In the front and top, there is a layering effect which gives the impression of higher density. In the crown the layering effect is very limited and a higher density is required for the same visual change.
Natural Hair Loss Progression After A Hair Transplant
The hair transplant will not slow down the hair loss process. So, the end status of a hair transplant or the visual impression after the transplant will depend greatly on hair loss in the recipient-area:
In other words the visual change after a hair transplant will be:
Visual Change = Growth from the transplant   minus   hair loss in the recipient-area
Reduce Hair Loss Before Or After A Hair Transplant
There are a number of medical treatment options to slow down or regrow hair. Applying these treatments can help you keep your hair for longer and will add to the visual change following a hair transplant.
Variations In Hair Transplant Results – Two Examples
To illustrate, how hair transplant results can vary greatly from patient to patient, I'll just present two different cases and how the patients may get completely different results.
Keep in mind, that every patient is unique, every surgery is unique and every hair transplant result is unique. Clinics or doctors claiming guaranteed results or guaranteed growth rates are simply lying: The concept of guarantee does not exist in medicine or surgery. Be wary of these kind of claims.
Of course these two examples are only for illustrations, but serve the purpose quite well.
24-years Old Male With Extensive Hair Loss
A 24 year old male with general thinning of front, top and crown, while the hairline is preserved. His hair is thin (low diameter). Total of 2500 grafts/4000 hairs are transplanted with 90% growth. The grafts are used for better density in the frontal half. Total recipient-area: 125 cm2. Over the next two years he loses 7000 hairs in the recipient-area.
Visual Change: 3600 hairs from the transplant – 7000 hairs lost since the transplant = 3400 hairs less as compared to before the surgery.
So, two years later the patient will have less hair than before the transplant. However, this does not mean, it wasn't worth it. The transplanted hair is permanent and had he not taken a transplant then he'd have had 7000 hairs less at age 26. As the hair is thin and the recipient-area is bigger, he'll have a far less dramatic effect as compared to the 32-year old male in the example below.
32-year Old Male With A Receding Hairline And High Temples
A 32-year old male gets a hair transplant with a slightly receding hairline and high temples. The hair is thick and curly. 2400 grafts/4800 hairs are used to lower the hairline and fill in the temples. Total recipient-area is 80 cm2, which comes to average of 30 grafts/cm2 or 60 hairs/cm2. The growth is 100% from the transplant. Over the next two years he loses 500 hairs:
Visual Change: 4800 hairs from the transplant – 500 hairs lost since the transplant = 4300 hairs more as compared to before the surgery.
So, two years later the patient will have 4300 more hair than before the transplant. Not only that, the recipient-area was smaller and density was higher. As the hair is thicker. this patient will get a results that is visually much more impressive than in the example above.
Hair Transplant Results Vary
If the 23-year old man compares himself to 32-year old man, he might very well feel his transplant failed, not realising that he'd look much worse had he not had the hair transplant.
Especially young patients with aggressive hair loss may be disappointed as their hair loss outruns the growth from the hair transplant. This can partially explain why some people feel they have less hair than before the transplant.
Naturalness Of Hair Transplantation Results
Hair transplantation for the patient may be mainly about density. However, as an experienced hair transplant surgeon, I do know that the most important factor for a happy patient is that the hair transplant looks natural. A hair transplant should not look like a hair transplant, to put it differently.
Direction, Depth, Design And Strategic Use Of Grafts
There are so many factors that are involved for a natural hair transplant.
I'll just mention some few here:
The direction of the implants is very important. Even high density results with an un-natural direction will look odd or off.
Depth of the implant: If the implants are placed too high/superficial in the skin it may reduce the growth from the surgery. If it's too deep in the skin, it may cause pitting. Pitting is a slight depression in the scalp where the hair exit the scalp. This gives an un-even surface of the scalp caused by grafts being placed too deep.
Using 3-4 hair grafts in the hairline, is a give-away that a hair transplanted has taken place.
Using the limited grafts strategically can help in making the hair transplant un-detectable. Only occasionally would I distribute grafts evenly in the recipient-area.
Placing the grafts precisely on a line. A hair line is a transitional area from low density to higher density and it's not a precise line. The grafts should be placed rather random around the hairline
Of course, there are many more factors involved to get the best possible cosmetic effect and have the greatest impact from a hair transplant. Do speak to us if you have any questions in this regard or otherwise.
We are presenting few examples of hair transplant results of our patients. Due to the factors mentioned above, it's important to understand and remember, that each patient is unique. Just because your friend, brother or someone got a certain result, it does not mean that you'll get the same result.
Your hair diameter, donor-hair availability, hair loss progression, skin/hair contrast, growth of the transplanted grafts and many other factors will differ from the next person. You should not expect "copy and paste" with whomever you are comparing to.