The second most important feature of a successful result is a natural result of the transplant. Of course, the most important is, that the surgery is safe and according to the highest medical standards.
As far as the cosmetic result is concerned, it depends on whole range of factors. Some of these factors are partially in the control of the patient and the surgeon. However, some are really outside our control and we just have to work with what we have available.
Factors that are outside our control
There are plenty of factors that we do not have any control over. Some of these are
The diameter of the donor-hair. The greater the diameter of the individual hair shaft or the thicker the donor-hair the greater coverage. This can schematically be illustrated with the below illustration.
ILLUSTRSATION
It's quite evident that thicker hair covers the scalp much, much better. Unfortunately, this is not a factor we can do much about. One interesting aspect of hair loss that people are mostly not aware of, is that hair loss does not mean that some follicles just stop producing hair from one day to the other. It's a gradual process, where the thickness of the hair is slowly and gradually reduced before the follicles stop producing more hair. This is why hair in the hair loss prone area looks so thin and light and gives less coverage than before.
Contrast between the hair and the skin. The greater the contrast between the colour of the hair and the scalp the more skin will be visible and give the impression of less density and coverage.
Donor-hair availability: Unfortunately, there is no fairness when it comes to hair loss. The greater the hair loss, the greater the need for donor-hair but it also means that you've less donor-area left. So, the more donor-hair you need the less you have. Similarly, if your hair loss is limited then your donor-area is much greater while your need for donor-hair is less.
Factors that we can partially control
While there are factors that are not in our control, we still have a say in some other
Design: Using donor-hair strategically can give an impression of more density with the same number of grafts. If the grafts are distributed evenly or randomly, it will give impression of less density.
Recipient-area size: The greater the recipient-area the less the density and coverage. This is just one reason, why the clinic and the surgeon should be very careful when planning the transplant. The right compromise between area and density is important and in this regard it's important that the patient's desires and needs are considered.
Recipient-area location: Having the same density in front and in the crown will not give the same impression of density or fullness. In the front and top, there is a layering effect which give the impression of higher density. In the crown the layering effect is very limited and a higher density is required for the same visual change.
Reduced hair loss: The hair transplant will not slow down the hair loss process. So, the end status of a hair transplant or the visual impression after the transplant will depend greatly on hair loss in the recipient-area:
Growth from the transplant – hair loss. If 5000 hairs are transplanted and if all of them grow and the patient has a hair loss of say 7000 hair in the area, then the end result will be -2000 hair as compared to prior the hair transplant. The patient may be upset that he/she has less hair in the recipient-area than before the transplant, but it only reflects the ongoing hair loss
Reduce hair loss. There are a number of medical treatment options to slow down or regrow hair. Applying these treatments can be vital to have the best possible visual change after a hair transplant.
Naturalness of hair transplantation
Direction, depth, strategic use of grafts
Hair transplantation for the patient may be mainly about density. However, as an experienced hair transplant surgeon, I do know that the most important factor for a happy patient is that the hair transplant looks natural. A hair transplant should not look like a hair transplant, to put it differently.
There are so many factors that are involved for a natural hair transplant.
I'll just mention some few here:
The direction of the implants is very important. Even high density results with an un-natural direction will look odd or off.
Depth of the implant: If the implants are placed too high/superficial in the skin it may reduce the growth from the surgery. If it's too deep in the skin, it may cause pitting. Pitting is an un-even surface of the scalp caused by grafts being placed too deep.
Using 3-4 hair grafts in the hair, is a give-away that this is transplanted hair.
Using the limited grafts strategically can help in making the hair transplant un-detectable. Only occasionally would I distribute grafts evenly in the recipient-area.
Placing the grafts precisely on a line. A hair line is a transitional area from low density to higher density and it's not a precise line. The grafts should be placed rather random around the hairline
Of course, there are many more factors involved to get the best possible cosmetic effect and have the greatest impact from a hair transplant. Do speak to us if you have any questions in this regard or otherwise.
We are presenting few examples of hair transplant results of our patients. Due to the factors mentioned above, it's important to understand and remember, that each patient is unique. Just because your friend, brother or someone got a certain result, it does not mean that you'll get the same result. Your hair diameter, donor-hair availability, speed of hair loss, skin/hair contrast, growth of the transplanted and many other factors will differ from the next person. You should not expect "copy and paste" with whomever you are comparing to.
Hair Transplant Results with before and after pictures
Shamoon Abbasi, a renowned Pakistani actor and a political worker. After a previously failed hair transplant he finally made up his mind about having a hair transplant at my clinic in Islamabad.
Check out our videos with Shamoon before and after the surgery and about his offer to work with Priankra Chopra in India.
Mikael Melbye: A renowned Danish artist, actor and portrait painter. He has been part of several great performances in France, Italy, UK, US and Denmark. He came for a hair transplant at my clinic in Islamabad.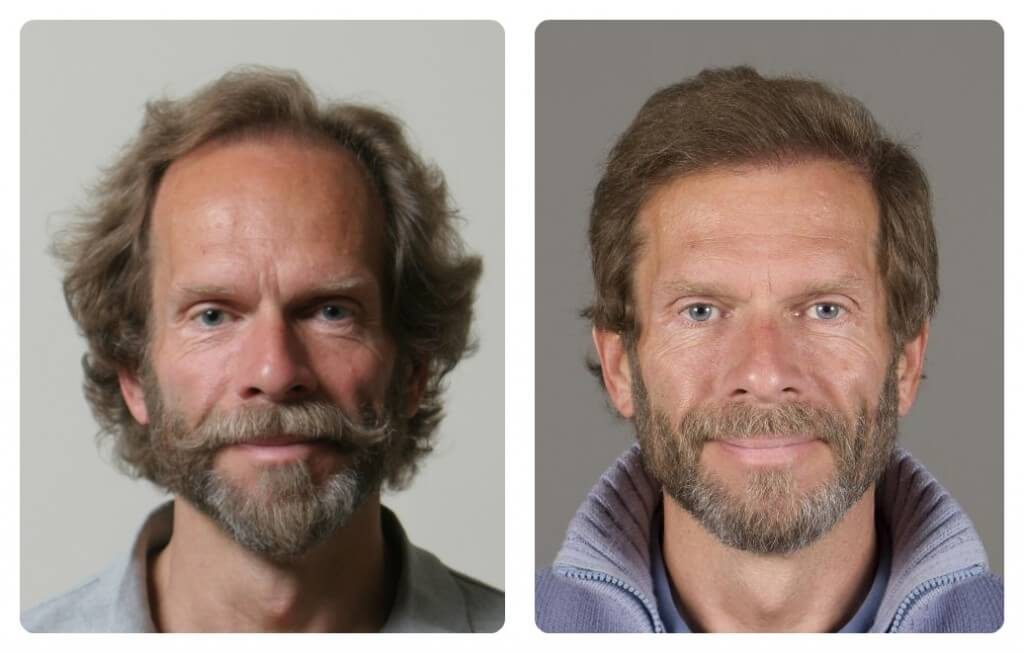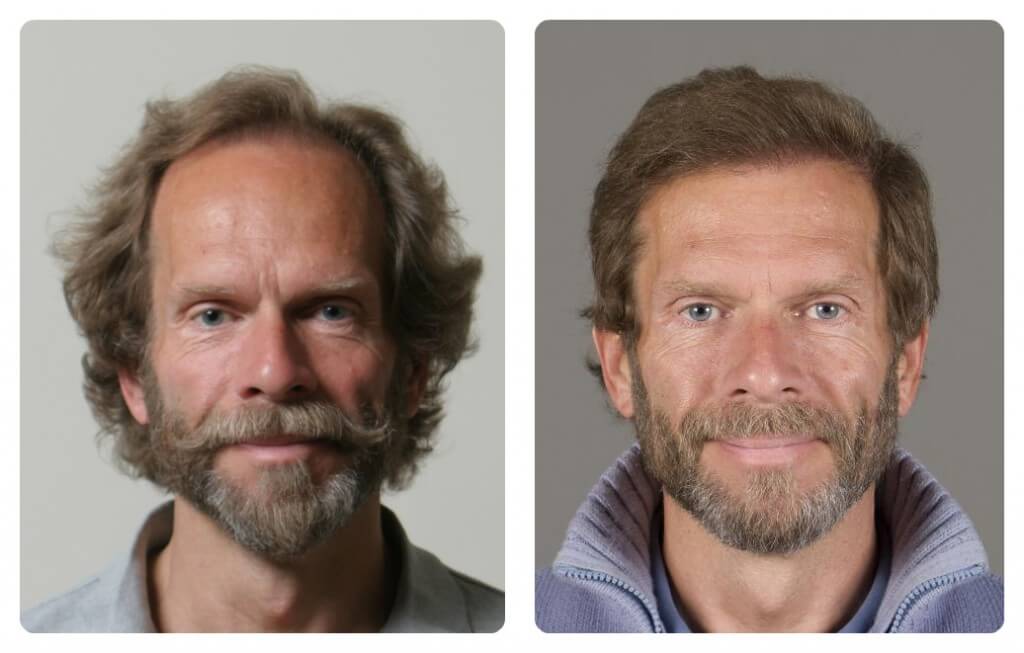 His donor-area was good and recipient-area was relatively limited. This is an optimal situation for a hair transplant in terms of density. However, the most important factor to consider is the naturalness of the transplant. Even on close inspection you cannot really see that he has had a hair transplant. Actually, his hair stylist at Copenhagen Spa didn't even realise that Mikael Melbye had a hair transplant.
When Mikael informed him, he tried to look for signs in the donor-area and the recipient-area, but failed to find any clues of a hair transplant. For the same reason he came to see me at my clinic in Denmark.
Jonathan Long, celebrity hair stylist in Chelsea/Kensington area. He recently launched his own brand in fragrances. Being a hair stylist himself, he had seen many patients with hair transplant that were all too visible. After a consultation with me in UK, he decided to have a hair transplant at my London clinic.
After his surgery with myself, his clients couldn't believe that he actually has had a transplant. He later came back for a hair transplant to the crown area.
Sam Akilles, owner of a chain of hair salons in Norway. He first went to Turkey for a hair transplant in Istanbul. A decision he regretted very soon. With limited growth and un-natural results, he was very upset about his surgery. He then had with me in Oslo. This was a greater project because the first surgery was so messed up. However, this was rectified and Sam has referred friends and clients to my clinic in Oslo.
Khurram Khan, the owner of a very well-known restaurant in Islamabad and a number of other restaurants and fast food outlets. Khurram had one major reservation: He did not want to go for the trimmed look. This somewhat places a restriction on our surgery. Without trimming the surgery is done in multiple smaller session. However, after 7 smaller surgeries at my clinic in Islamabad, Khurram was finally able to leave behind his hair loss fibres that he used to cover up his thinning areas.
Khalid Khan, US. Working in the IT field. His wife is a doctor in the US and hence, he had high standards for his surgery. Fortunately, his donor area was relatively good and in few surgeries we managed to totally change his looks and give him a younger and more handsome look. Needless to say that his is happy about his results.
Gordon Ahlwardt, from Hamburg in Germany. He opted for a live consultation with me at the clinic in Copenhagen. He then flew to Pakistan for a hair transplant at my clinic in Islamabad. Check out what he has to say about his results in the video below.
Ahmed Kamal, a business